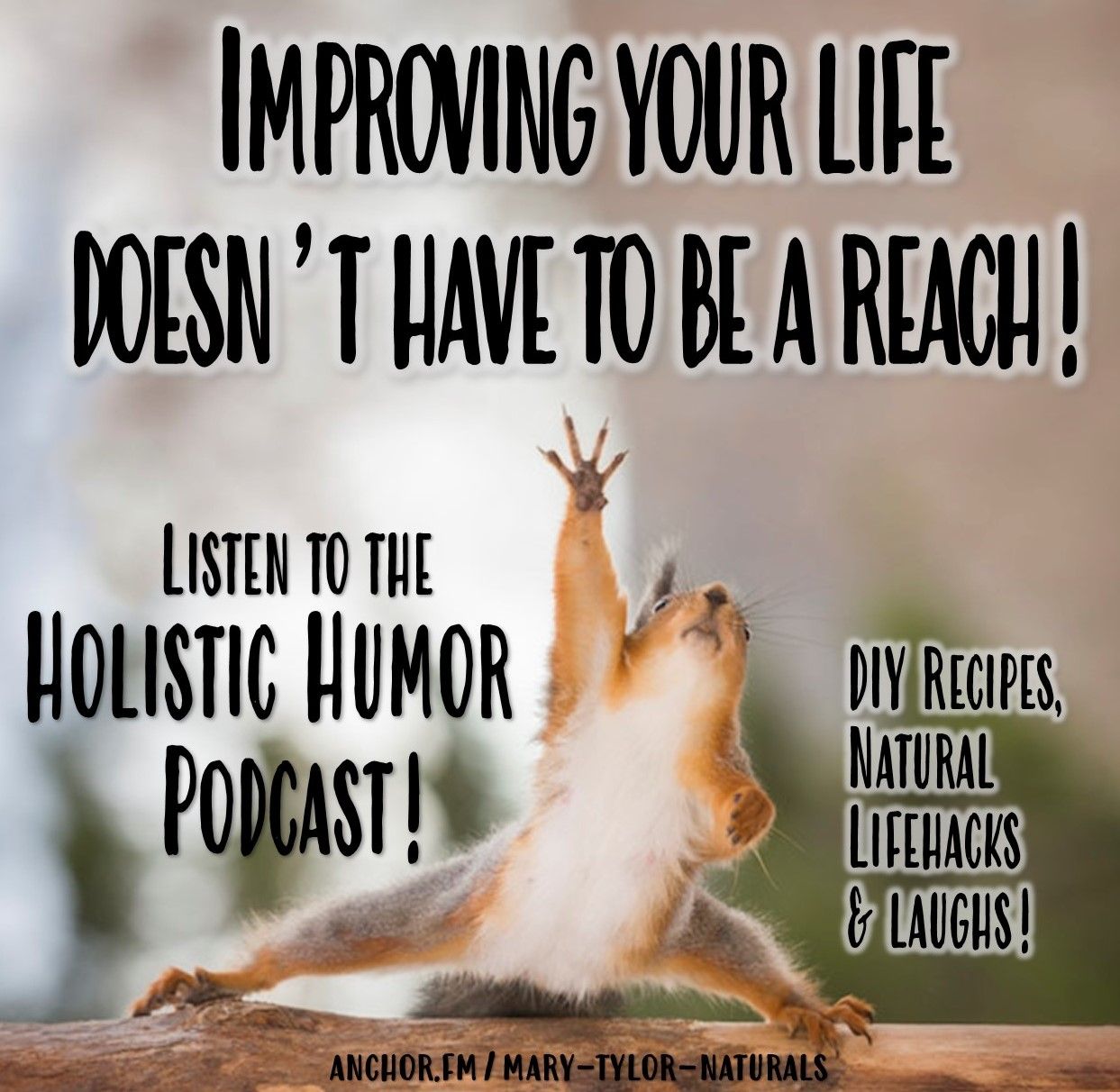 What do natural lifehacks, DIY recipes and laughter have in common?
These are all things that can improve your life and also things that Mary Tylor Natural's is proud to share with you! We are excited to announce the launch of the Holistic Humor podcast. Join our hilarious and educated staff, Win and Bryan as they share the secrets of how to use natural products and organic lifestyle hacks to improve your life!
Listen to Holistic Humor on anchor.fm/mary-tylor-naturals or find us on Spotify, GooglePodcasts, RadioPublic and Apple itunes!
Examples of some of our hilarious and educational podcast episodes! https://anchor.fm/mary-tylor-naturals/episodes/Holistic-Humor---Holistic-101-eq924v/a-a4k2k60
In this introductory episode, Bryan and Win introduce themselves and Mary Tylor Naturals! They discuss what products Mary Tylor offers and also give helpful tips on what USDA certified means and talk about how essential oils need to be cautiously used around pets. Tune into get a fun, short lesson on what holistic health means and how it can benefit you and your family.
Favorite Quotes from this episode-
"I have a big beautiful beard and lemongrass burned it."
"It is jojoba oil…..not pronounced Joe-Joe-Ba! That's like pronouncing Juan like Ja-huan or offering him joe-joe-ba oil."
"It is important to note that pets can be much more sensitive to smells than humans, so use caution when you are diffusing oils around pets."
https://anchor.fm/mary-tylor-naturals/episodes/Holistic-Humor---Funny-Folk-Remedies-eq97tj
Did you know that cowboy boots are used as a treatment in folk medicine? Listen to the podcast to find out how! In this episode, Bryan and Win comb through an outdated book to discover some funny, random folk remedies and also that doctors sometimes write books with lots of innuendos. This episode is sure to make you laugh and give you some helpful tips on what to do and what not to do in holistic health!
Favorite quotes from this episode-
"No one in Texas can be bowlegged, right?"
"Bee sting tip- avoid bees."
"If you put vodka in your ear, I'm pretty sure that's alcohol abuse."
"Health is more than just what medications you take and the food you eat, it is your lifestyle, who you're around, your thoughts."
"You didn't get your training? They didn't hand you a potato and tell you to spell it?"
https://anchor.fm/mary-tylor-naturals/episodes/Holistic-Humor---Deodorant-Dangerous-eq9an8
Deodorant is a necessary hygiene product, but is the one you're using filled with toxins? Is your deodorant dangerous? Listen to Mary Tylor Natural's podcast episode to find out how you can discover if your deodorant is dangerous, how to find safe, natural alternatives and a DIY recipe tutorial on how to make your own natural deodorant. Learn how to safely promote detoxification with this hilarious podcast with Bryan and Win!
Favorite quotes from this episode-
"We probably smell like a farm at this point."
"Antiperspirants actually inhibit parts of your body's detoxification process."
"If you want to be a reverse vampire with your garlic and onions that's fine!"
Essential oils are everywhere, but do you know how to use them? Tune into the Holistic Humor podcast where Bryan and Win explain what essential oils are and discuss the risks and benefits of each one! Join us for our Explaining Essential Oils series where we showcase specific essential oils throughout our episodes and tell you everything you need to know!
https://anchor.fm/mary-tylor-naturals/episodes/Holistic-Humor---Dilution-eqein1/a-a4l7hsr
This podcast episode was inspired by Bryan's hilarous essential oil escapade before he learned that you have to dilute them! In this episode, Win explains how to safely dilute essential oils and explains the various types of carrier oils. This is is hilarious way to learn how to safely use essential oils.
Favorite Quotes from this episode-
"Today apparently is hillbilly mojo day, cause we sound like we're speaking banjo."
"Proper essential oil dilutions are necessary for safe use!"
"Be sure that you are reading labels, you can safely diulte something but if it contains other ingredients it may not be as beneficial."
Mary Tylor Naturals is proud to offer a line of organic products and pleased to offer our podcast to help educate you on how to incorporate holistic health into your life!
You can find our podcast at the link below: